Paul's words
Life at the Domaine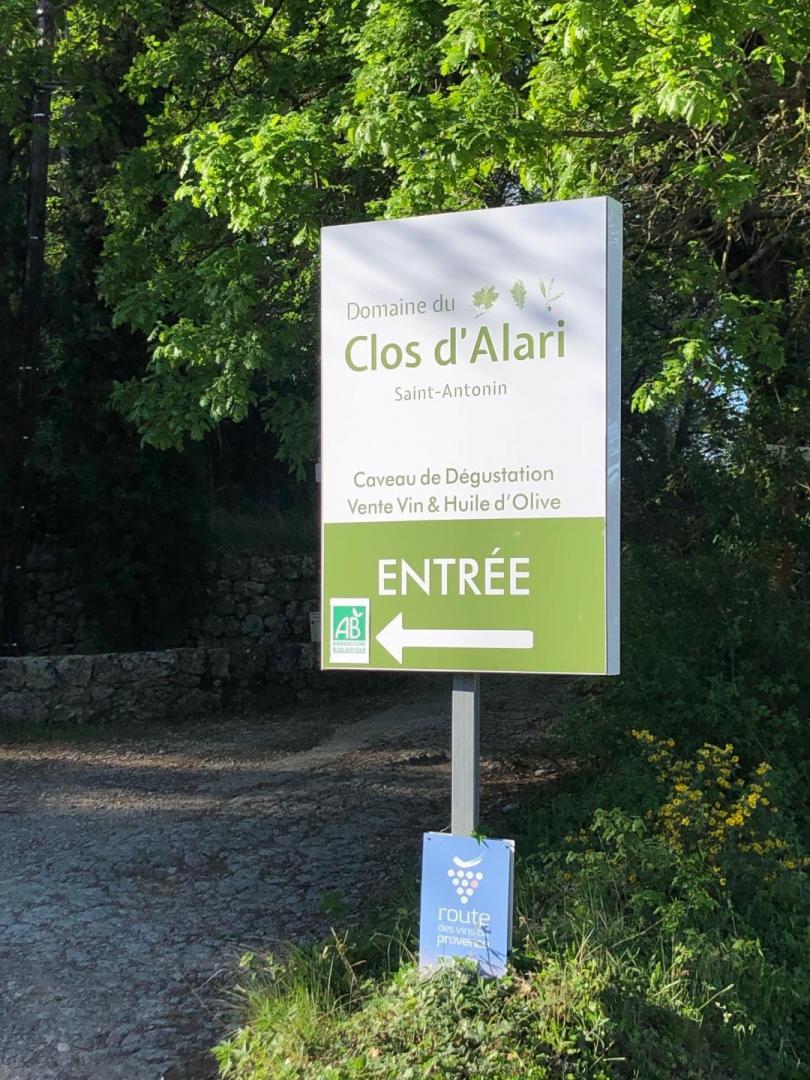 The year 2022 marked our determination to work the soils according to organic farming criteria and vinify with a minimum of interventions and inputs, with little or no sulphur and all indigenous yeasts.
In this way, our wines express the truth of our land without the artifice of any kind to accentuate this or that characteristic, this or that "Provençal" criterion.
This desire to make "living" wines is reflected in our participation, for the first time, in trade shows bringing together winemakers who work with this desire and in our inclusion in the "Raisin" digital application, which lists as many "nature" winemakers as possible in France and around the world.
In February, we replanted rootstocks on our old Carignan plot, which was missing a lot. In a year or two, we'll be grafting a massive selection of this grape variety to ensure these vines' optimal quality and durability.
The poor durability of vines planted some twenty or thirty years ago, mainly due to the industrial development of grafting and rootstock at that time, means that we have to grub up some plots until we can gradually replant them with more resistant vines (massal selection).
Pruning, an essential operation in viticulture, takes a lot of time. To avoid the devastating effect of frost, we carry out 2-stage pruning on many vines with early budding. Because it's at this time (end of April) that frost wreaks havoc, even in Provence. Let's not forget that the estate is 350m above sea level and that night-time temperatures often dip below 0°C. April frosts are known as the "saints of ice". Thermal amplitude is one of the parameters that give freshness to our wines, but it's not without risk with these late frosts. In 2021, we lost 30% of our harvest.
The summer season is about to begin; I'm talking about the guest rooms; the vats are almost empty, the pruning is finished, the wires are down, and the de-budding is starting......
I'd like to take this opportunity to give you some news about the estate.
A TURNING POINT TOWARDS EVEN MORE NATURALNESS
1st pick: is Merlot... last: is Cinsault. The entire harvest was vinified using indigenous yeasts, meaning that the yeasts in the grapes do all the work. Very little intervention in the cellar and a minimum of sulphur at bottling.
And an excellent new cuvée!
HARVEST 2022...OH LALA
LATE FROST AND WILD BOAR?
As usual, the wild boar feasted on our grapes, as the Domaine is not fenced. Small harvest in quantity, this is becoming a bis repetita. Our harvest began on August 23 and ended on September 2. Harvesting at night, by hand and headlamp. Top start at 4 a.m., pizza or savoury pie break at 7 a.m.Yes, you can see very well at night with a good headlamp, not a severed finger. Great atmosphere, and to experience dawn, then dawn in the vineyards, it's magical. And the novelty, spotted at the beginning of April 2023....une Biche !!!! Boars love ripe grapes, and hinds love buds....Y VA PLUS RIEN RESTER...
OLIVE OIL...NADA
CATASTROPHE! Nothing, not an olive; we haven't even put the nets down!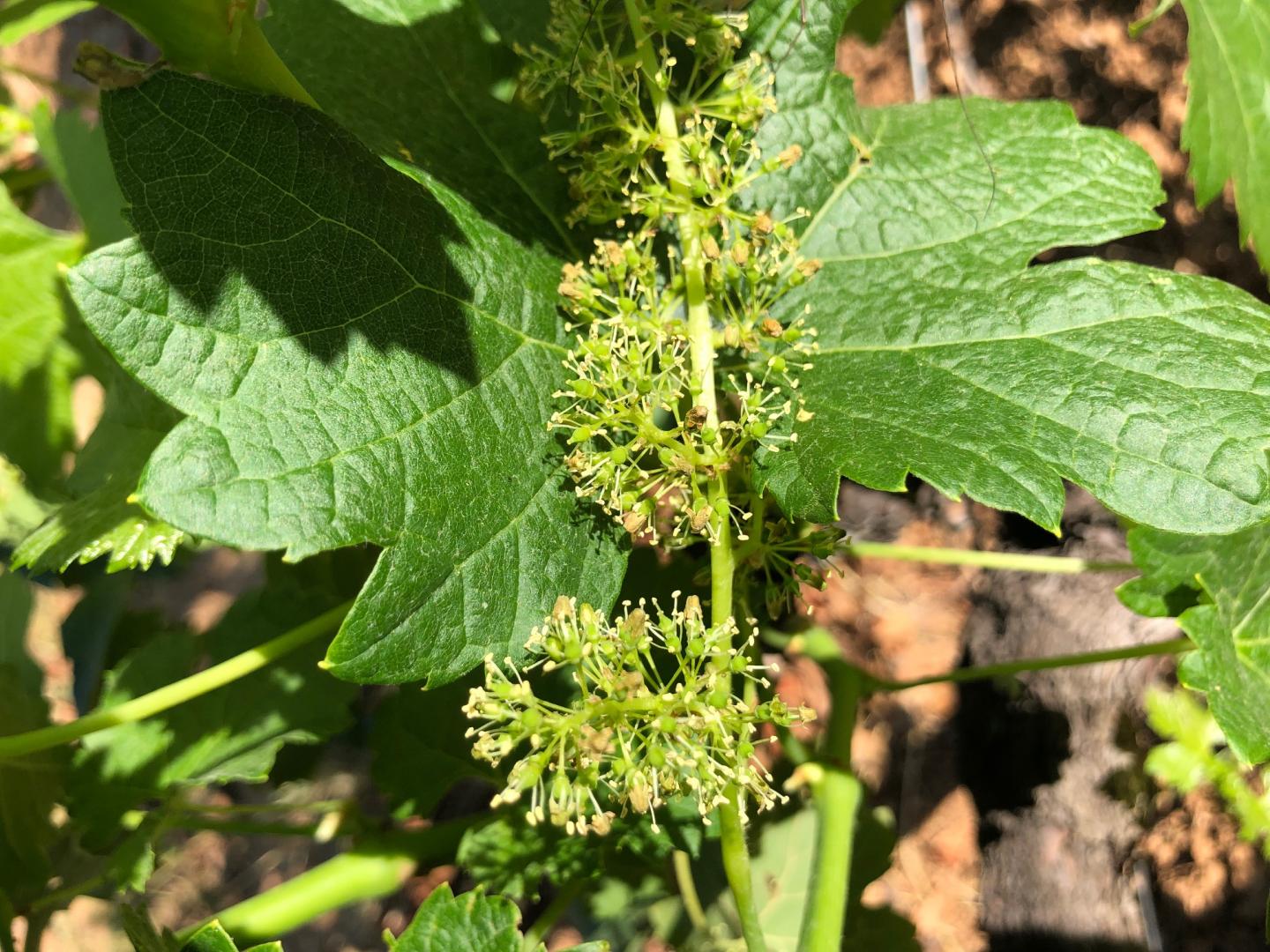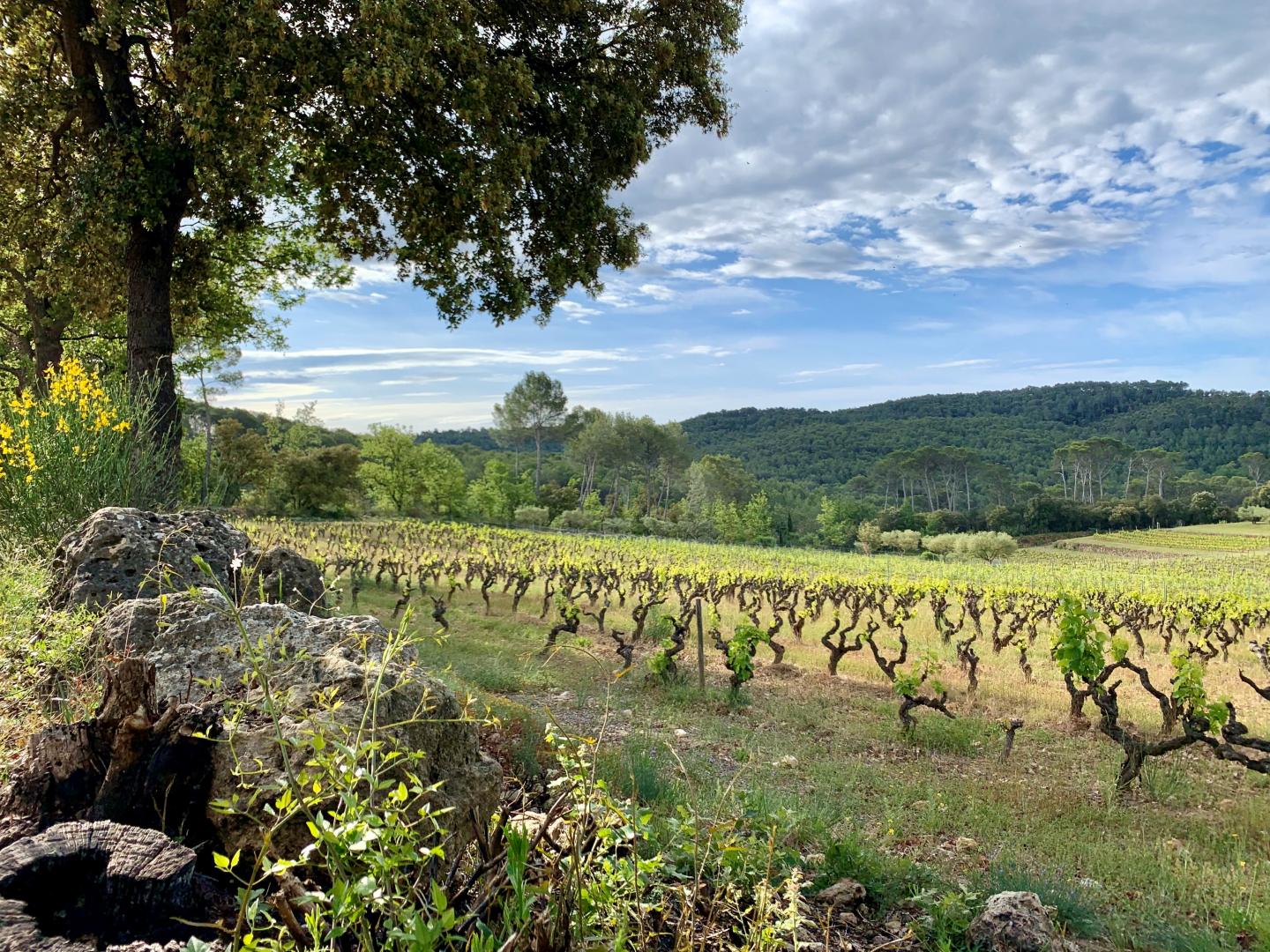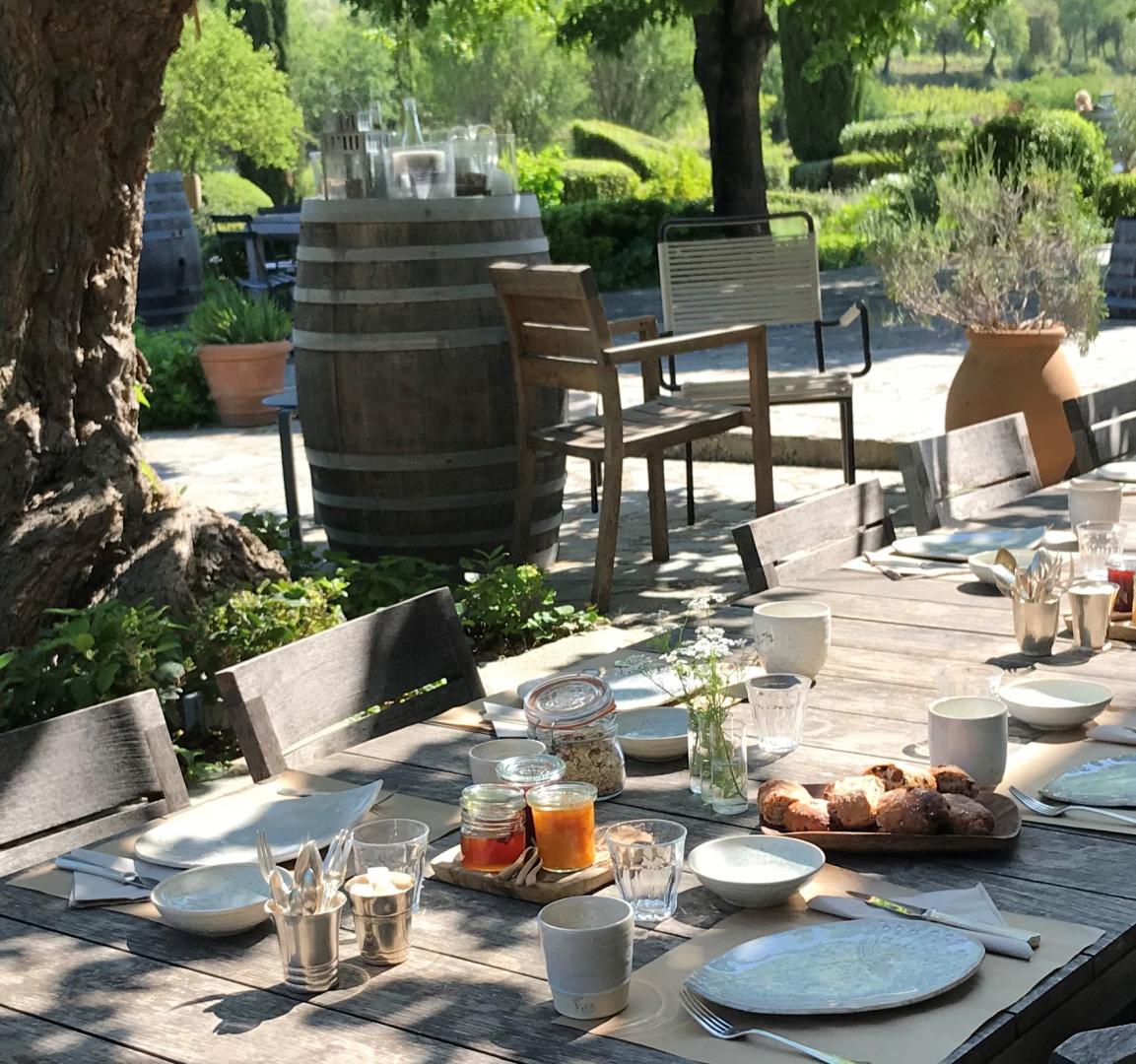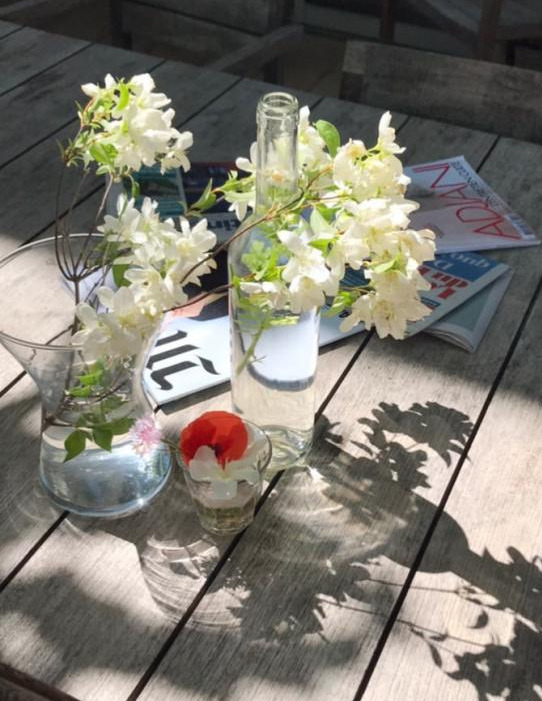 THE TEAM, WELCOME to my dear and loving husband, Paul Vautrin
He was bored in Paris.... from now on, he'll be helping me with the management, the vinification, and he's put together a very nice 3-hour tour, entitled "From Soil to Glass" which will help you understand all the difficulties of viticulture and vinification.
Not forgetting my "dad" and my "mom", BRAVO to them, always faithful, and SUPER ACTIVE!!!!
LAST BUT NOT LEAST...UNE RECETTE
COMING SOON.
CHERRY TOMATO PIE by Dominique Le Stanc chef at La MIRENDA in NICE
Ingredients for 6 people:
For the pastry
300 g flour
15 cl milk
15 g fresh baker's yeast
10 cl olive oil
1 teaspoon salt
For the garnish
500 g cherry tomatoes
10 g dried oregano
1 bunch basil
50 g Nice olives Salt / Pepper
To make the cherry tomato tart :
1 - Mix the crumbled yeast and flour.
2 - Mix the flour, milk, olive oil, yeast and salt with a mixer (using the dough hooks) or by hand until you have a soft dough.
3 - Roll out the dough in a tart tin or on a pizza tray. Leave to rise for 2 hours at room temperature, then flatten slightly.
4 - Preheat oven to 180°C.
5 - Wash, stem and halve the tomatoes. Arrange them in a rosette on the pastry. Season with salt and pepper and sprinkle with oregano.
6 - Bake for 30 min. Serve warm after adding olives and basil.
Bon appétit!
Aware as we are of our good fortune and privilege to make wine in a site as beautiful as that of the estate, with most of the vines around the bastide and the Clos, and with our winery nearby, we are keen to develop our wine tourism activity, and more particularly to introduce our visitors to the winegrower's craft.
In addition to a free wine tasting in the cellar, which is open to all, we offer several ways to learn more about the wine-making process, from vine to bottle, as well as an introduction to wine tasting.
A tour of the estate and the winery, with a brief but as exhaustive as possible presentation of the stages involved in growing the vines and making the wine in situ, gives a better understanding of the richness and complexity of the winemaker's craft and the different parameters that determine the uniqueness of a cuvée. The visit always ends with a tasting of our wines. This activity lasts half a day.
We also offer wine-related stays. In this way, we combine our bed and breakfast activity with our winegrowing business. The bastide is in the heart of the vineyards, so we can offer our guests not only the visit described above, but also an even more in-depth tasting of our wines, including a wine and food pairing menu.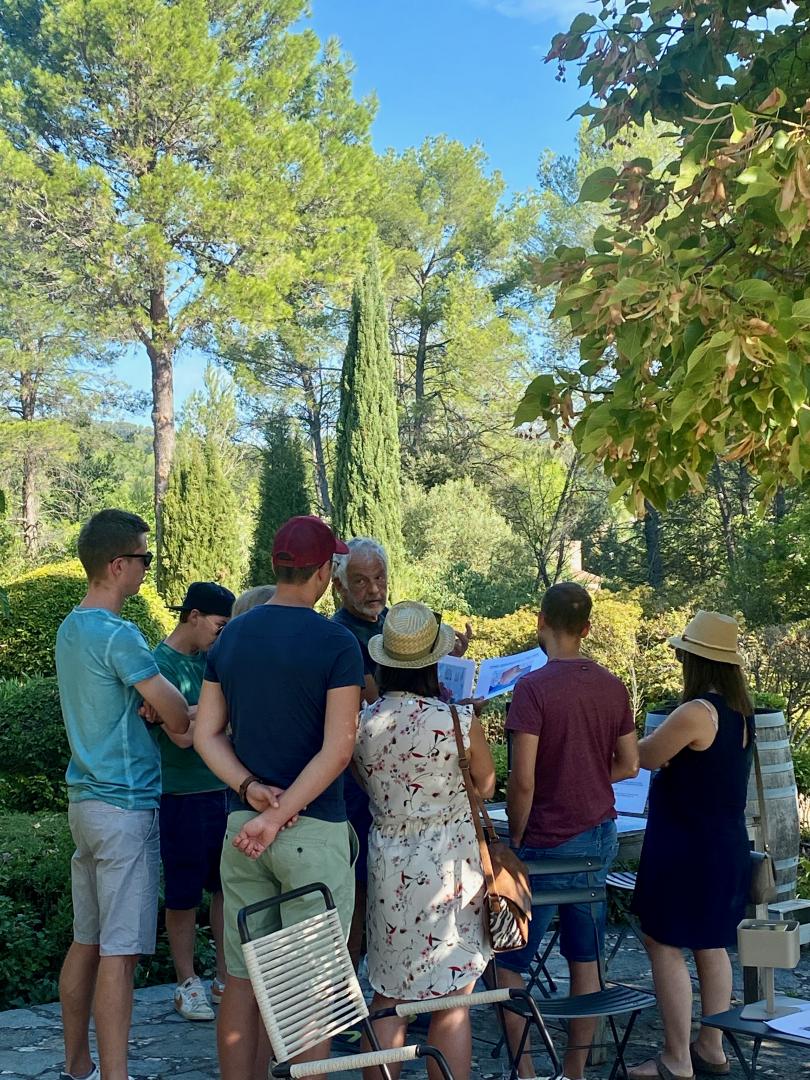 March
We are listed on the raisin digital application, which lists natural wine growers worldwide. Le Clos d'Alari at the Vin d'Azur trade show in Juan les Pins. This is our first participation in a natural wine fair.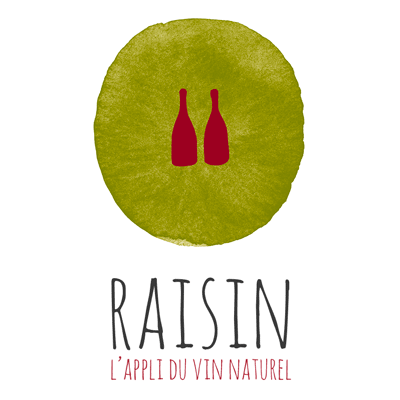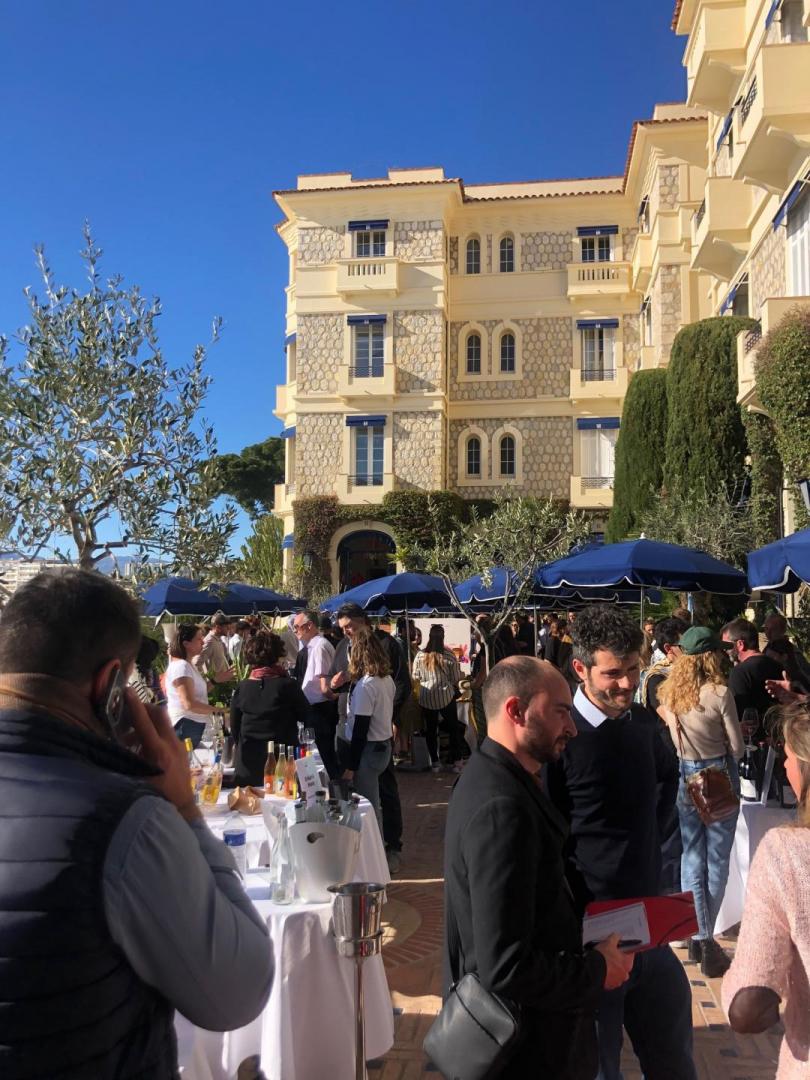 April
Livingston in Marseille, the Best Delicacies Bar in the 2022 food guide, orders bottles of our Métisse cuvée.
Le mas des langoustiers in Porquerolles references several of our vintages.
The Belleville cellar, one of the most renowned in Paris, orders our Grand Clos rosé.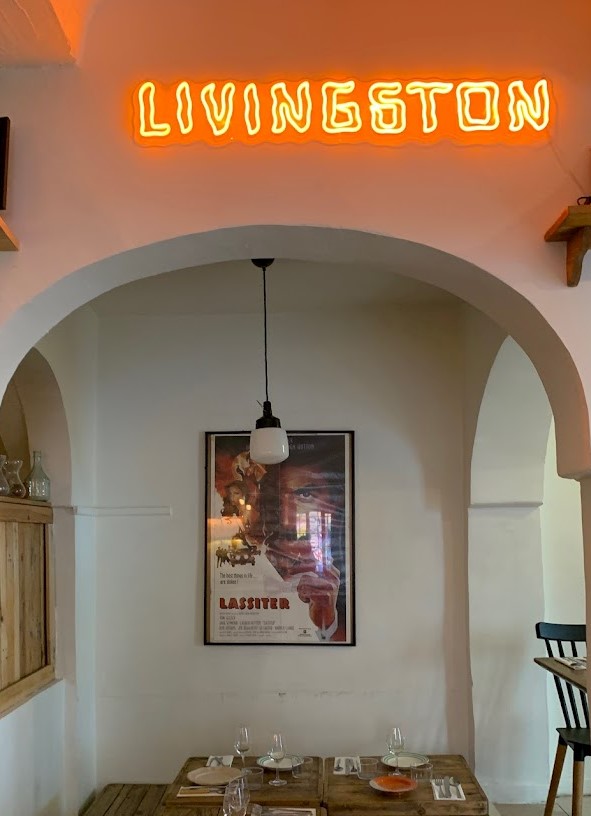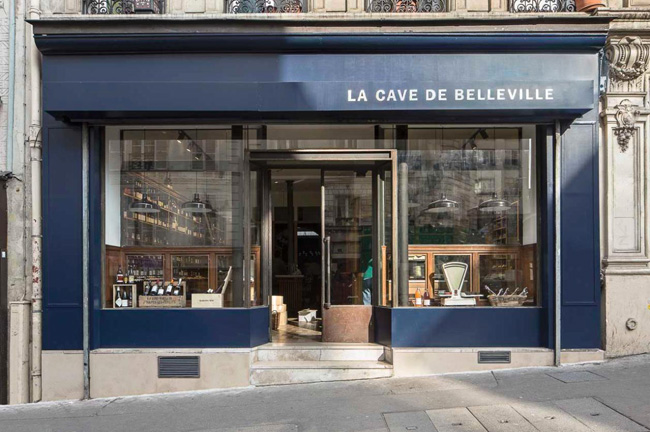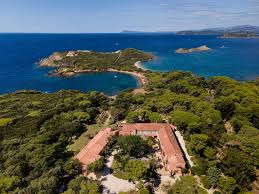 May
Final bottling of our "Grand Clos" rosé 2022.
The vats are empty until the 2023 harvest!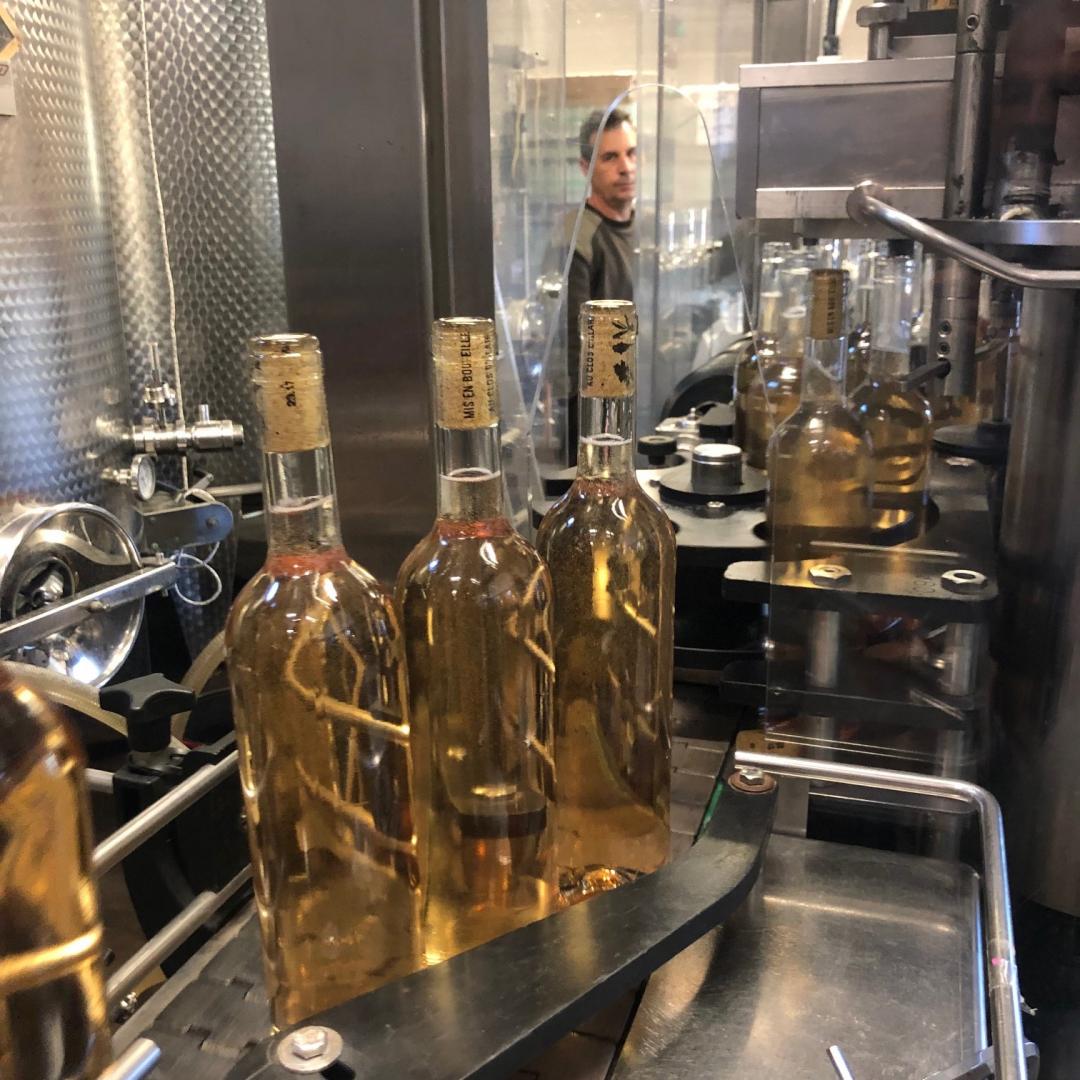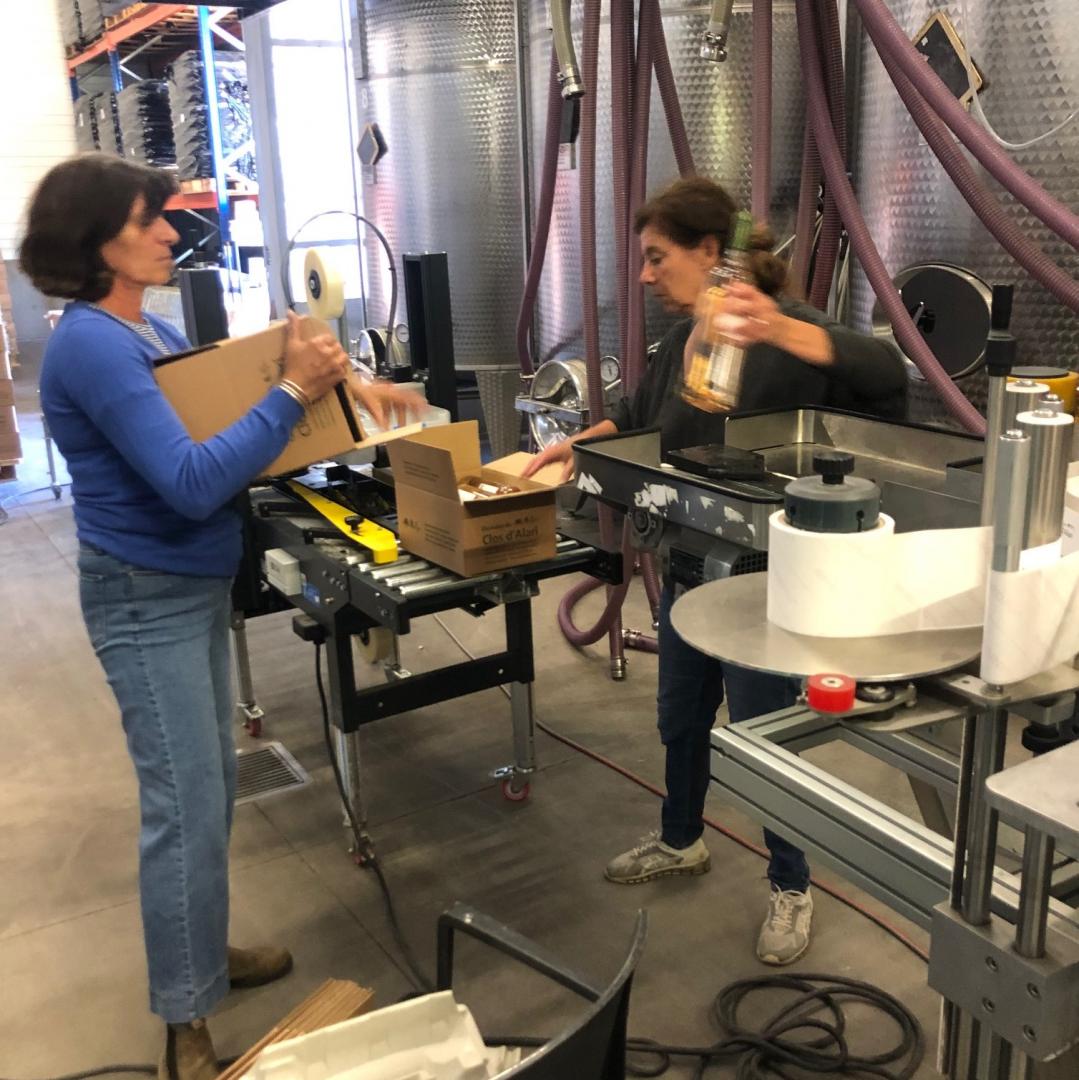 Le Clos d'Alari took part in the VINI AIOLI trade show in Marseille.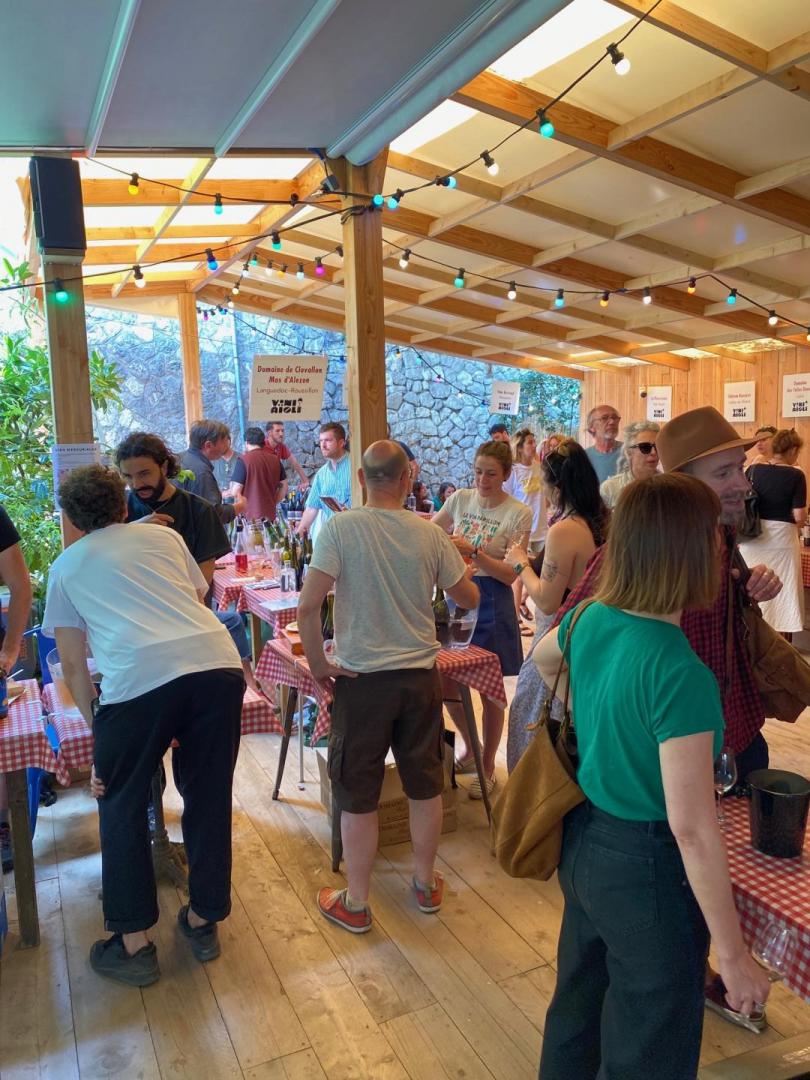 The Swedish online wine magazine talks about our estate. The article on wine tourism concerns our wine-growing region: Provence. The Clos d'Alari estate is suggested as a vineyard to visit!                                                                  
The online guide winetourisme.com allows visitors to book wine tastings.
See our profile on winetourism.com where we present our estate.